Q & A with
MARK GLICKMAN
Author of Marketing Paradise: Talk Stories to Learn From
What was your inspiration for the book?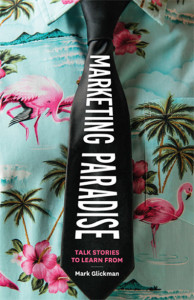 Whenever I was invited to speak at a conference or teach a class or even when I pitched clients, it was always my stories that seemed to resonate the most with the audience. People would come up to me after my presentations to tell me how much they loved my stories. I even had people approach me who had seen me speak ten years earlier and they would tell me they still remembered my stories. I realized that my stories stood the test of time and that there were lessons that could be learned from them. After 25 years of compiling stories throughout my career, I was finally inspired to write Marketing Paradise-Talk Stories to Learn From. I'm looking forward to creating more stories as I enter yet another new chapter in my career…back in paradise.
What do you mean by your subtitle, 'Talk Stories to Learn From?'
On Hawaii's Big Island where I headed up marketing for a top luxury resort, the locals enjoy a daily ritual known as "talk story." Essentially, talk story means shooting the breeze with friends and family, catching up with each other's lives and swapping gossip. Marketing Paradise is a compilation of some of my "talk stories" over the years along with valuable punchlists at the end of each chapter.
What kind of reaction do you get when you tell people you're a marketing consultant for resorts all over the world and have lived and worked in Mexico and Hawaii? I know everyone is thinking, "sign me up for the easy life." I can understand that…life in paradise sound so sexy. After all, for many people, those destinations are there lifelong dream vacations. Margaritas, beautiful beaches, palm trees, spectacular sunsets, massages on the beach, golf…what could be better, right?
Well, is it the 'easy life?' What I've learned over the years is that vacationing or attending a conference in paradise is a far cry from actually living and working there. Life is far from perfect in paradise. Let's see…there's crime, poverty, kidnappings and a plethora of potential natural disasters from earthquakes to hurricanes to tsunamis to out of control brushfires to name just a few.   Thankfully, odds are, most resort guests will miss those during their short visit. However, when you live and work there, you get to experience and deal with all of them.
It seems like Paradise would market itself so what's the challenge then? In over 25 years in the hospitality business, the most common phenomena I've encountered with countless numbers of resorts in paradise is what I'll refer to as "tunnel vision". By that I mean, resorts often get lost inside their own isolated world because they become too insulated and have a tendency to become content and almost defeated by the limitations of their resources. Resorts are often located in remote, less developed parts of the world, from poor rural counties in the U.S. to isolated islands around the world. The talent pool of resources in these locations is usually pretty limited. As a result, some resorts are forced to use a local wait staff in their Five Diamond fine dining restaurant whose previous experience may have been working the counter at McDonald's or eating at the local pizza stand at K-Mart That makes for a steep learning curve to reach the kind of high standards it takes for a resort to deliver and exceed the guests' expectations. However, one of the biggest challenges for resorts in paradise is airlift. You can have the greatest marketing plan in the world, but if you can't get people to your island, you're screwed.
In the book it sounds like you're a risk taker and will go to any lengths for a good promotion. Has this ever gotten you into trouble? As the expression goes, "Sometimes you eat the bear and sometimes the bear eats you." I've discovered the hard way, that no matter how much I've prepared, promotions can quickly take a turn for the worse. Fortunately, I've learned as much from promotions that have gone bad as from those that have gone smoothly and been a smashing success. Whenever I do a promotion that involves kids and animals, it's always a roll of the dice and there's always a risk of something going awry.
The world of public relations and marketing is changing so rapidly, will your book stand the test of time? The tools and technology of public relations and marketing may change, but the fundamentals of finding a compelling storyline and entertaining storytelling will always remain. People of all ages can relate to and be inspired by great storytelling.
You've seen the good, bad and ugly of the resort world I'm sure, which most of us as guests in these resorts don't ever see. What would surprise people to know?The environmental impact and massive amount of resources it takes for a resort to operate between energy and water consumption, use of consumable and durable goods and solid and hazardous waste creation. If a guest would see 150,000 pounds of laundry which is an average load at some properties, they would have a better understanding of the impact of linen reuse programs. I encourage people to support resorts that are trying to make a positive difference with their environmental efforts.